This tomato basil soup made from fresh, bold San Marzano tomatoes in the Instant Pot is a quick and easy meal perfect for weeknights or lazy summer weekend afternoons. Tomato soup is always best made with peak-summer tomatoes and this is a delicious and fast way to use up your garden's or farmers market's bounty. Free-from the top 8 allergens, Paleo, and vegan, this is a versatile dish the whole family will love!
This summer at the Cooper Young Community Farmer's Market, Tubby Creek Farm had a variety of tomato I had never purchased fresh before: San Marzano.
San Marzano tomatoes are a type of plum tomato that have very thick, fleshy walls and very little water on the inside. They look similar to Roma tomatoes, but are usually thinner and have pointed ends. Roma tomatoes were actually developed as a San Marzano cross.
San Marzano tomatoes have a bold, strong flavor that has a slight hint of sweetness and that isn't too acidic. They are excellent for making cooked tomato sauces as well as fresh salsas.
When I sliced a San Marzano tomato for the first time I noticed that the slices looked more like bell peppers than tomatoes, just look!
I bought a quart of these lovely tomatoes every Saturday for $5 a pop for a few weeks, then I decided that since I liked them so much I should buy a discounted flat that had 10 lbs for just $20.
But then I had to figure out what to do with all of those tomatoes!
So I decided to create this fast and flavorful Instant Pot tomato basil soup, with a big punch of flavor from the San Marzano tomatoes. This soup is Paleo, vegan, and free-from the top 8 allergens, making it versatile and great to serve to guests with dietary restrictions.
Nothing beats a fresh, homemade tomato basil soup, and it couldn't be easier to prepare thanks to the Instant Pot pressure cooker.
Tomatoes only need 3 minutes cook time in the Instant Pot
It puzzles me that so many websites call for drastically overcooking vegetables in the Instant Pot. According to the official cooking time chart, most vegetables need mere minutes, between 2 and 10, to fully cook. I found some recipes that called for THIRTY MINUTES of cook time for a tomato soup. Whole, large potatoes only need 15 minutes, and whole beetroots need 20-25, so why on earth would soft tomatoes need 30 minutes?!
All you need is 3 quick minutes at high pressure and this tomato basil soup is done!
I strongly suggest using an immersion blender (aka stick blender) to puree this soup, because transferring piping hot liquid to a blender is not fun. I have had this Cuisinart immersion blender since 2014 and still use it weekly.
Do you have to peel tomatoes to make soup?
I say no, you do not need to peel them first. I don't mind the texture that they add to soups, and I do think they add flavor. However, if you are very picky about texture and want a silky smooth soup without bits of peel, you'll need to budget for some extra time to take care of peeling the fresh tomatoes (see recipe for instructions).
Substitutes for fresh San Marzano tomatoes
If you can't find fresh San Marzano tomatoes locally, the best substitute is fresh Roma tomatoes, which are widely available at most grocery stores.
You can also make this soup using canned San Marzano tomatoes, which are available to order online or for sale at most grocery stores.
And, really, it's fine to substitute any variety of fresh tomato you have access to here - if you make it with another variety please share in the comments how it turned out for you!
Serving Suggestions for Tomato Basil Soup
I don't know about you, but tomato soup makes me want to eat a grilled cheese sandwich! The two are a classic pair, and if you need a Paleo, vegan, dairy-free, and free-from allergens version of a grilled cheese sandwich, look no further than my Paleo Meltable Stretchy Cheddar Cheese Recipe.
Use my cheddar cheese with your favorite bread to make your sandwich. I do not adhere to strict Paleo, so I really like to use the Canyon Bakehouse gluten-free breads to make dairy-free grilled cheese. If you need a Paleo option, check out the Legit Bread mixes on Amazon.
Fast & Flavorful Paleo Cooking - coming March 2020
If you love fast and flavorful weeknight-friendly recipes like this, make sure to pre-order my upcoming cookbook Fast & Flavorful Paleo Cooking, releasing on March 31st 2020. Learn more about the book here.
Instant Pot Fresh San Marzano Tomato Basil Soup
This fresh, homemade tomato basil soup uses the bold and robust San Marzano variety to create an unforgettable flavor. It is a fast and flavorful dish that only needs 3 minutes cook time in the Instant Pot pressure cooker, perfect for weeknights! Both Paleo and vegan, this dish is free-from the top 8 allergens making it a versatile dish great to serve to guests with dietary restrictions.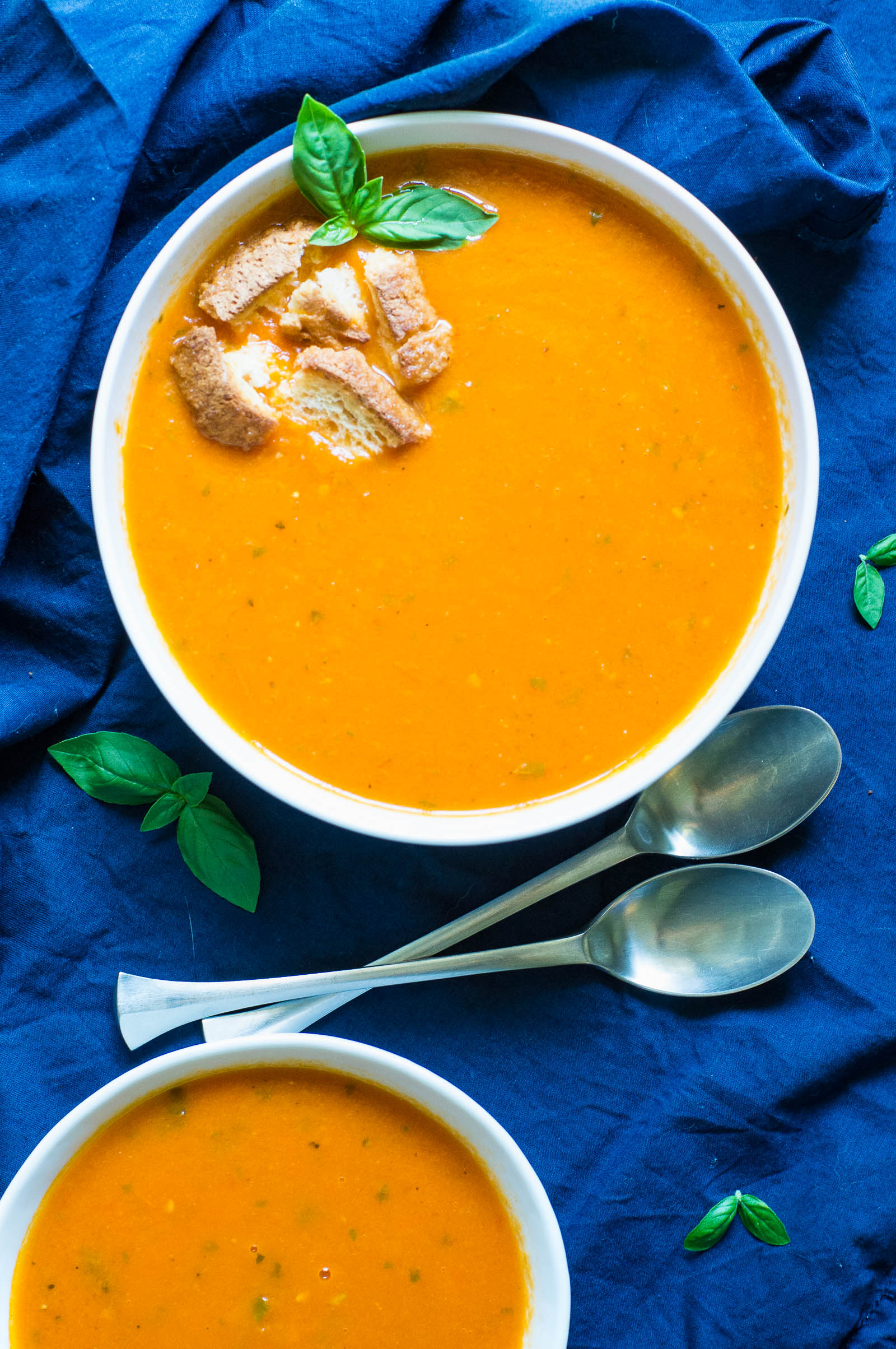 Ingredients
1/4 cup

extra-virgin olive oil

2 cups

chopped white onion (about 1 medium)

6

large cloves garlic

1 cup

chicken broth (or water)

4 lbs

fresh San Marzano tomatoes, quartered

2 tsp

unrefined salt

1 tsp

freshly cracked black pepper

1 tbsp

nutritional yeast (optional)

1 cup

fresh basil leaves
Instructions
Press the "sauté" button on the Instant Pot pressure cooker and wait for the display to read "hot". Add the olive oil, onion, and garlic and sautée for about 3 minutes, then press the "keep warm/cancel" button.

Add the broth, tomatoes, salt, pepper, and nutritional yeast, if using. Reserve the fresh basil for the end. Press the "manual" button and adjust the time to cook on high pressure for 3 minutes.

When the Instant Pot finishes cooking and beeps, press "keep warm/cancel". Very carefully, keeping your face and arms away from the top of the Instant Pot, use an oven mitt to move the quick release valve on top from "Sealing" to "Venting" to vent the steam and depressurize. When the steam venting stops and the metal float valve drops, open the lid and place it in the lid-holding slot on the side of the Instant Pot.

Add the fresh basil to the pot. Use an immersion/stick blender to purée the soup into a smooth texture. Serve as is, or with your favorite crackers or crusty bread. I like Legit Bread (Paleo, available as a mix you bake yourself), Canyon Bakehouse gluten-free bread (sold in the freezer section), and Simple Mills crackers (Paleo). You could also serve this with a grilled cheese sandwich, see my recipe for a dairy-free and Paleo option with meltable cheddar cheese.

Note: I prefer not to peel tomatoes before making soup because it adds time and is kinda messy, and I also do not mind having pieces of peel in the soup. But if you do not like the texture of small pieces of peel in your soup you can peel the fresh tomatoes before cooking them. To peel tomatoes, bring a pot of water to a boil and prepare an ice water bath in a large bowl. Cut a very shallow "X" in the bottom of each tomato. Working in batches, poach the tomatoes in the boiling water for less than a minute, until the skins start to wrinkle and split, then immediately transfer them with a slotted spoon to the ice water bath. Once cool enough to handle, use a small knife or your fingers to remove the peels.
Details
Prep time:
Cook time:
Total time:
Yield:

6 servings
Other Information
Category:

Soup
Cuisine:

American
Keywords:

fresh tomato soup, summer tomato recipe, Instant Pot soup, fresh San Marzano tomato recipe, fresh basil
Suitable for:

Gluten-Free
More recent recipes and articles: